Are you dreaming of a tropical paradise, where the gentle ocean breeze caresses your face, and the sound of ukuleles fills the air? Why not bring the magic of Hawaii to your next themed party? A Hawaiian-themed party is the perfect way to transport your guests to an exotic island, and what better way to do it than through their taste buds? In this article, we'll guide you through some of the best Hawaiian food recipes that will leave your guests asking for more. So, put on your favorite Hawaiian shirt, don a flower lei, and get ready to embark on a culinary journey to the Aloha State! (See also "How To Make A Hawaiian Shaved Ice Cream With Homemade Fruit Flavored Syrup")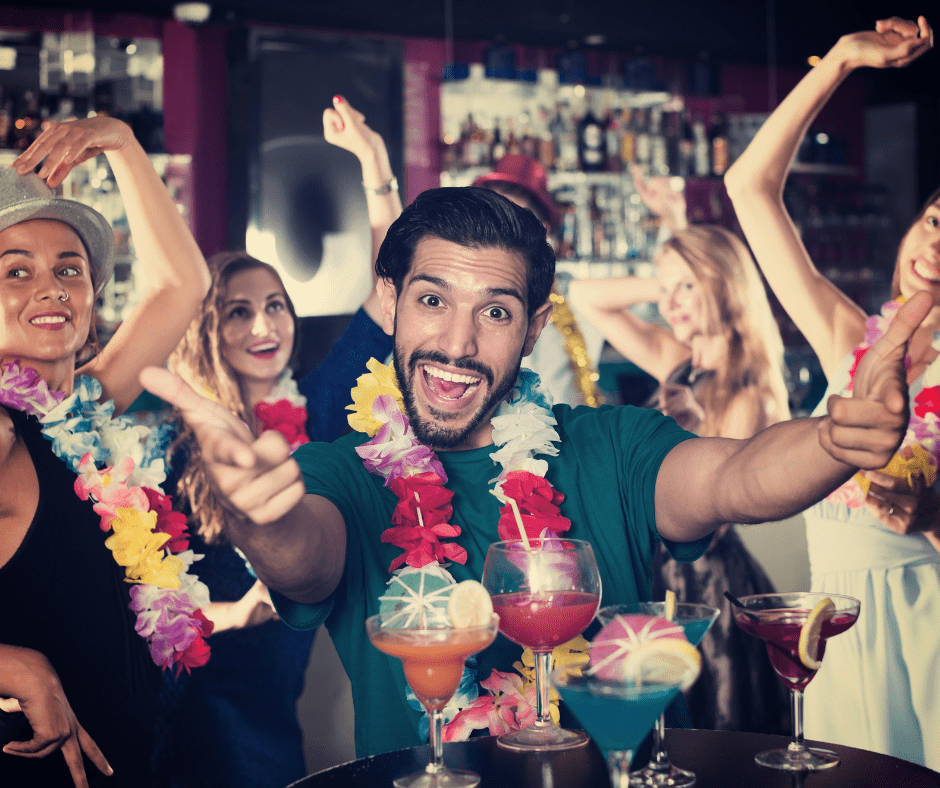 To set the stage for an authentic Hawaiian experience, let's start with some classic dishes deeply rooted in the island's culture. One such dish is the Kalua Pork. Prepared by slow-cooking a whole pig in an underground oven called an imu, Kalua Pork is tender, smoky, and infused with traditional flavors. Another iconic dish is Lomi Lomi Salmon, a refreshing salad made with salted salmon, tomatoes, onions, and green onions, marinated to perfection.
While traditional dishes hold a special place in Hawaiian cuisine, modern Hawaiian fusion dishes have also gained popularity. These innovative creations blend traditional Hawaiian ingredients with contemporary culinary techniques. One example is the Hawaiian BBQ Pizza, featuring a fusion of barbecue sauce, tender chicken, pineapple, and cheese atop a crispy crust.
For a party ambiance, tantalize your guests' taste buds with a variety of Hawaiian-inspired appetizers and finger foods. Ahi Poke, a savory raw fish salad, is a crowd-pleasing option. You can also serve Coconut Shrimp with a tangy dipping sauce for a delightful tropical twist.
For the main courses, consider offering a diverse selection to cater to different preferences. Huli Huli Chicken, a marinated and grilled chicken dish, is sure to be a hit. For seafood lovers, Macadamia-Crusted Mahi-Mahi brings a delightful combination of crunchy and juicy flavors.
Complement the main courses with a variety of side dishes and accompaniments. Pineapple Fried Rice perfectly balances the sweetness of pineapple with the savoriness of fried rice. Don't forget to serve some Taro Rolls as a unique and delicious alternative to regular dinner rolls.
End your feast on a sweet note with some delectable Hawaiian desserts. Haupia, a creamy coconut pudding, is a delightful tropical delight. For a refreshing treat, serve some Mango Sorbet that will transport your guests to a sun-kissed Hawaiian beach. (See also "How To Make Hawaiian Sea Salt And Palm Sugar Caramel Ice Cream"
Quench your guests' thirst with a selection of refreshing beverages and tropical cocktails. A classic Mai Tai with its blend of rum and citrus flavors will transport everyone to the shores of Waikiki. For non-alcoholic options, consider serving a Pineapple Ginger Punch, a delightful mix of pineapple juice and ginger ale. (See also "How To Make Pisco Sour: The Classic Peruvian Cocktail")
Create an interactive experience with DIY food stations. Set up a Poke Bowl Bar, allowing guests to customize their poke bowls with a variety of fresh ingredients. Additionally, a Build-Your-Own Slider Station with a selection of toppings will be a hit among your guests.
To add visual appeal to your dishes, pay attention to creative presentation. Serve dishes in coconut shells or hollowed pineapples for an authentic touch. As for decorations, use vibrant tropical flowers like Hibiscus and Bird of Paradise to create a festive atmosphere.
Music is a crucial element of any Hawaiian-themed party. Prepare a playlist featuring classic Hawaiian tunes from legendary artists like Israel Kamakawiwo'ole and Don Ho. For an added touch, hire a ukulele player to strum some melodies live.
Keep the party spirit alive with entertaining games and activities. Organize a Hula Hoop Contest to get everyone moving and laughing. For a more laid-back option, have a Sandcastle Building Competition reminiscent of beach days in Hawaii.
While embracing the Hawaiian spirit, it's essential to be culturally sensitive. Encourage guests to respect local customs, such as removing shoes before entering the party area. A small gesture of appreciation for the Hawaiian culture can go a long way.
Hosting a Hawaiian-themed party doesn't have to break the bank. Consider DIY decorations using materials like bamboo and tiki torches. Opt for locally sourced ingredients to support the community and reduce costs.
14. Conclusion
In conclusion, hosting a Hawaiian-themed party is a fantastic way to transport your guests to the enchanting shores of Hawaii. By serving a selection of traditional and modern Hawaiian dishes, along with refreshing beverages and delightful desserts, you'll create an unforgettable experience for everyone. Remember to add some Aloha spirit with music, games, and cultural sensitivity, ensuring your guests have a truly immersive and enjoyable time.
---
FAQs
1. Can I prepare the Kalua Pork in an oven if I don't have an imu?
Absolutely! While the traditional method involves an imu, you can achieve a similar result by slow-roasting the pork in your oven. Wrap the pork in banana leaves or foil to retain moisture and flavor.
2. Is it possible to make non-alcoholic versions of the cocktails?
Yes, definitely! You can create non-alcoholic versions of popular cocktails by replacing the alcoholic ingredients with juices, flavored syrups, and soda.
3. Can I use frozen fish for the Ahi Poke?
Fresh fish is preferable for Ahi Poke, but you can use high-quality frozen fish if fresh isn't available. Just make sure to thaw it properly before preparing the dish.
4. How far in advance can I prepare the Haupia dessert?
You can make Haupia a day in advance and refrigerate it until you're ready to serve. The flavors will meld beautifully overnight.
5. Are there any vegetarian main course options for the party?
Absolutely! Consider dishes like Grilled Veggie Skewers, Jackfruit Tacos, or Coconut Curry Tofu as delicious vegetarian main course options.